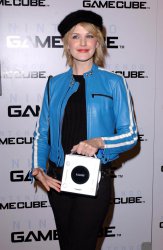 Welcome back to KM UK's nostalgia corner.
We're on the verge a new era of computer game consoles as Sony and Microsoft lock controllers in the battle to be the best of the 8th generation machines.  The Xbox One (stupid name for the 3rd version) and PlayStation 4 (predictable name for the fourth) will be both hit the shelves in the coming month, varying slightly depending on manufacturer and region.  I've not forgotten the Wii U launched a year ago, but everyone else appears to have done so.
Here we look back to the re-launch of a much loved 6th generation machine: the Nintendo GameCube.  By this time the PS2 had been around a couple of years.  The actual Xbox 1 was approaching it's first anniversary, and the increasingly forgotten Sega Dreamcast was already ageing badly at 3.  Being ahead of your time doesn't always go well.
Nintendo chose to give their GameCube a glittery make-over just prior to the beginning of the all-important holiday period in the United States.  The limited edition Platinum GC received a star-studded send off at Nintendo's Gone Platinum Party, which took place on October 23rd, 2002.  Eleven years ago!
If you want to launch something cute and shiny, invite someone that really shines and is very cute.  Ladies and gentleman: Kathryn Morris.
See how it all ties up?  I don't just throw this stuff together you know!
5 photos have been added to the Gallery.