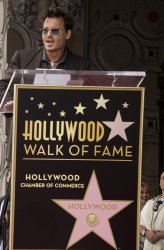 Now, now ladies please stop starring at Johnny Depp like that.  It's very unladylike and is frankly demeaning.  He's not a piece of meat you know! 

On Monday (24 June 2013), TV and film producer extraordinaire Jerry Bruckheimer (American Gigolo, Flashdance, Beverly Hills Cop, Top Gun, Bad Boys, Gone In Sixty Seconds, Pearl Harbor, all the CSIs, Without A Trace, The Amazing Race, National Treasure, all 6 (made and unmade, yet) Pirates Of The Caribbean films, The Lone Ranger… I'm sure there is another important one I'm forgetting… It'll come to me eventually) was the recipient of a star on the Hollywood Walk Of Fame.
With a CV like that Jerry has a huge number of film and TV star friends to call upon to help celebrate.  He has made a lot of people rich and famous.  And let's face it he must have dirt on a few of them if they in any way reluctant :-O
Cold Case (Finally!  That was the one I was trying to think of before

) is, of course, amongst Jerry's production credits and there was always a chance that Kathryn made the journey to Hollywood to join in.  There was little sign of this in the hours following the event though.  You would think that a 7 months pregnant, blonde TV star with a smile that can kill at 20 paces would stand out just a little?
Thankfully, the always on the ball Kareen_T has helped prove that Kathryn was there thanks to a video on YouTube by Kat Tales TV.  Kat pounced on Kat(hryn) heading to her car after the event.  You can see the video on YouTube HERE.
Knowing that Kathryn was there gave us something to work with.  Sure enough I've been able to find a few photos and videos of Kathryn at the event.  Sadly nothing else that puts her front and centre.  She is always in the background.  If you can drag your eyes away Johnny Depp for a second you can just make out Kathryn to the right of the big pink star in the photo above.  Off to the right is the place to look in most cases.
You can now play a Kathryn-themed "Where's Waldo?" with a small collection of photos and videos in the Gallery.
Update (26 June 2013):  It can be denied no longer.  She was there

  I found a couple more photos.