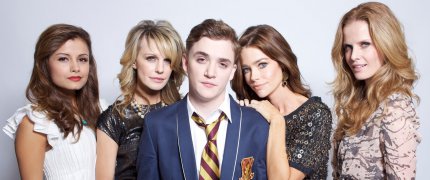 It only took two years, which when you get to cougar-age is not to be taken lightly, but the movie Cougars, Inc. finally received a cinema release here in the UK.  We use the past tense "released" because it appears to have been, done and gone, and left to do the walk of shame after a four day fling last week in just a handful of cinemas across England.  We doubt it troubled the box office.  The information of this release managed to pass KM UK by.
The British Board Of Film Classification (BBFC), the body that issues all films with their official age ratings for the UK market, gave Cougars, Inc. its 15 certificate for feature (cinema) and video (DVD and VOD) at the end of January.  Another fact that passed us by.
That the film was submitted for classification (where it received no cuts so will be the same as the US version) and given a theatrical run, albeit a very brief one, does suggest that an official DVD release may be imminent.  We'll keep you posted.
For those few unfamiliar with Cougars, Inc. it is about Sam (Kyle Gallner, in the middle in above photo) and his mis- and miss-adventures.  He's a teen that tends to get into trouble and has been moved to another new school by his mother in the hope of a fresh start.  Only mummy can't pay the expensive fees.  Stood-up on his first date with a girl he's just met Sam takes solace in a bar, where he bumps into Kathryn's Alison.  A morning-after thank you monetary gift to help with his school from said cougar gives Sam's friends a plan to make more cash from other bored and wealthy women.  Hijinks ensue.  We'd like to be able to tell you it is a heart-warming tale about lonely souls finding each other, but we can't.