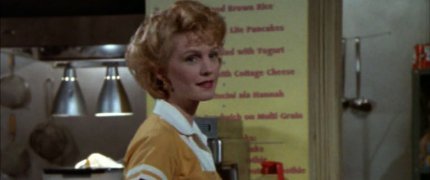 This is another of our occasional Media Alerts aimed at making our UK based readers aware of upcoming appearances of Kathryn on our TV screens.
Since taking over the broadcasting of the popular US TV series Murder, She Wrote here in the UK at some point in the last 18 months from the BBC, ITV have been getting through them at quite a rate.  This is one of the last ever episodes and there are over 260 episodes of them in total across 12 seasons.  Whether the commercial broadcaster has actually shown them all, and in order, we can't be sure.
How ever they got here ITV3 is showing the episode titled "What You Don't Know Can Kill You" tomorrow (Wednesday, 28th November 2012) at 3:20pm, with a repeat at 7pm the same day.  Those with access to the appropriate +1 channel could watch it four times in one day.  As they say: check local press for details.
This particular episode is of interest to us because Kathryn guest stars as Doreen The Waitress in one of her earlier TV roles.  The role might be quite small but Kathryn's gets in some memorable moments.  The Southern accent and amazing smile both get a work-out.
Of course, Kathryn returned to MSW four years later with a more significant role in Murder, She Wrote: A Story To Die For, the second of four TV movies that were made after the series ended.
On Monday afternoon ITV3 start the whole shebang from the beginning again with season 1, episode 1.  At this rate it will be more than a year before we get Kathryn back so get her while she's hot, so to speak

There are already screencaps and a couple of small video clips from MSW: WYDKCKY in the KM UK Gallery.