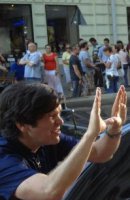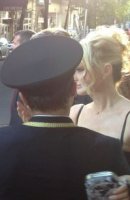 Director Michael Damian has let it be known via Twitter that filming on Confections Of A Discarded Woman has completed.
Based on previous information it was due to end on the 24th of June, though I don't believe that today's message necessarily contradicts that.  Michael mentioned that he is now on a writers retreat in France so could have been there a couple of days.
In a short series of Tweets about the film Michael sent a few photos taken during the process.  Only one of these appears to include Kathryn (see right), and even then I have my doubts.  Check out the full-sized version in the Gallery and let us know what you think.  Is that her on the very right of frame?
The fact that filming has wrapped is a good thing but now we have to wait a year to see the results 

You can read more about the film and Kathryn's role in it in earlier posts HERE and HERE.  The film's IMDb page continues to be updated (it is now listed as being in post-production) with an increasing cast list, most of them English actors.
Thanks to Michael for the information and allowing KM UK to share his photos.
Update:  I forgot to add a poll to this post.

Should I add a poll to this post? :-)

Yes (73%, 8 Votes)
What was the question? (27%, 3 Votes)
No (0%, 0 Votes)

Total Voters: 11

Loading ...