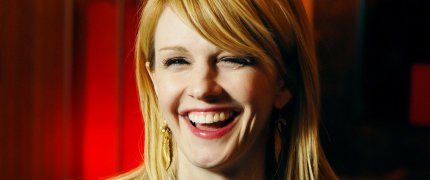 I'm not sure it gets better than that.
Day 4 of Kathryn's time at the Sundance Film Festival (22 April 2007, day 5 of the festival) was devoid of "lounges", première or screenings.  She did, however, do an interview for the website IndependentFilm.com at the ESPN Sports Zone bar on Main Street in Park City.  Kathryn spoke to Corey Boutilier about Resurrecting The Champ which premièred earlier in the week.  You can see a small video of the interview on the IndependentFilm website.
We don't see Kathryn reach for the glass on the bar until the end of the video but you do get the impression that there was some imbibing before the cameras rolled.  She's in a fun and rather flirty mood


Watch the video and you'll see a series of camera flashes as a photographer takes some still shots as the interview takes place.  The man wielding the camera is John Mazlish.
Not only has John kindly allow KM UK to post the photo seen with the video and on his own website, he has also very generously given us two additional photos from the set.  These are previously unseen so are something of an exclusive to KM UK.   I'm sure you'll agree that John has done a wonderful job of capturing Kathryn's natural beauty with the vivid colours and sharpness of the images.  I don't think John can take credit for the smile though

I struggled a bit with how to classify these photos.  It wasn't really a public appearance, or an interview, despite an interview taking place, so I've gone with "photoshoot".  John gets his own album in the Photoshoot section of the KM UK Gallery.  See all three fantastic photos in the Gallery.
Huge thanks to John to taking such great photos and allowing us to showcase them here.  You can see more of John Mazlish's work on his website HERE.