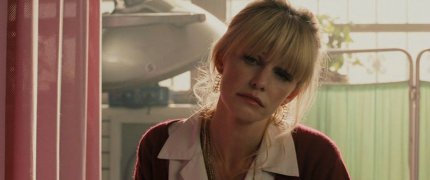 Just ahead of the DVD release of Assassination Of A High School President we have new screencaps and video (with audio this time) in the Gallery.
A quick reminder: Kathryn plays Nurse Platt in two very brief scenes in the movie.  In both instances she speaking to Bobby Funke (Reece Thompson) as he investigates the case of some stolen SAT exam papers.
The DVD is due for release on Tuesday (6 October 2009) in the US.  There is still a question mark regarding the Blu-ray version, we may or may not see a release on the HD format.
Update: The new screencaps have been replaced with larger higher quality versions.  There is no sign of Kathryn in any of the DVD extras.