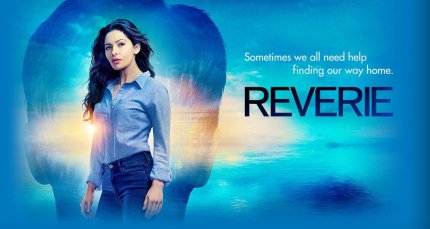 As NBC can give and NBC can, not so much take away, but move to one side.
On Friday we got the official statement that the new NBC network VR-based drama series Reverie had been selected from the many to become a series.
Last night that statement gained a 'but'.
The primetime schedules were released showing where each existing and new programme would fit into the 8pm – 11pm lives of the American television viewers in September.
Notable by its absence was the Mickey Fisher (Extant) created, Sarah Shahi (Person Of Interest) starring, Reverie.  This meant the show would be held over to be a 'mid-season' release instead.
Mid-season is purposefully vague.  If things go well for the planned line-up then Reverie will likely not see the light of day until the new year.  However, if something happens, such as a new show absolutely tanking in the ratings (that's a bad thing) then Reverie could be brought in off the subs bench to fill in.  It would suggest a relatively short series order initially too.
So, not great news but a little disappointing after the great news that Reverie had been selected to become a series.
Network promotional 'Upfront' events have been happening today (15th May) in New York.  At the time of publishing Reverie has not really featured but Sarah and co-star Dennis Haysbert (24) are present.  Kathryn does not appear to be.
Some official Reverie artwork (one item of which can be seen above) has been added to the KM UK Gallery.