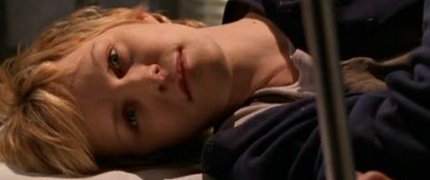 My intention was to write a longer piece about this, as I did for the two Xena episodes (see part 1 & part 2) but there really isn't much to describe here.  That is not to say this is a insignificant role, just a simple one to lay out.
This is Kathryn very much in her "guest starring" period.  Between leaving Pensacola: Wings Of Gold and being propelled into the big time by Minority Report Kathryn amassed quite a collection of acting credits.  From almost throw-away roles, literally in the case of her scenes deleted from The Last Castle, to movie carrying tour de forces, she did them all.  Working with so many different casts and crews must have been a given her a solid grounding in the "business that is show."

To matters at hand.  Kathryn guest starred as Molly in the première episode of TV drama Providence's second season, titled The Third Thing.
Molly is a troubled young woman.  Troubled by losing her baby.  She turns to the good doctors of Providence to help her get answers from the authorities that she believes took her child from her.  Unfortunately they will never be able to provide her with the good news she wants.

Convinced her baby is still alive but being kept from her, Molly feels she has no other choice than to take drastic action.  Hostage taking action.
Future Bruckheimer alumna Melina Kanakaredes (Detective Stella Bonasera in CSI: New York) stars as Dr. Sydney Hansen.  Providence ran for 96 episodes across 5 seasons between 1999 and 2002 in the US.
178 not-as-good-as-quality-as-I'd like screencaps can be found in the Gallery.