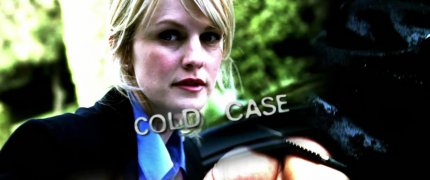 Yes!  Nailed it!  I've remembered and got the right date for the first time in a few years.
The 28th of September is one of those key dates in the KM UK calendar.  In 2003 it was first time the world got to Look Again.  The first episode of Cold Case premièred that Sunday night on the CBS network in America.
Happy Birthday Cold Case.
The basic formula of investigating old unsolved cases was set from the beginning, but the Cold Case greatly expanded the flashback elements as that initial season progressed.  They became key to what made the show different from other procedurals, and no doubt added greatly to the cost and complexity of making each episode.  Two actors were often used to play the same character at different ages, and the sets needed to be changed to match the time periods too.
One significant change in the early season was the departure of actor Justin Chambers.  Justin played Chris Lassing, the detective paired with Kathryn's Lilly Rush.  He only appeared in three of the first four episodes (Look Again, Gleen, and Churchgoing People).  The order the episodes were filmed may have been different from the order they were broadcast, explaining Justin's absence from number three.  Justin went on to become a lead character in Grey's Anatomy.  The hospital drama returns to TV tonight to start its 14th season.  In the coming months Justin will be celebrating his 300th episode of Grey's.  One hundred times more than he did on Cold Case!  That's quite a milestone.
Danny Pino as Scotty Valens was brought in as Lilly's cop partner from episode five, so the decision to change was likely taken before Look Again first aired.  Danny remained for the rest of the show's seven season run.
With all the remakes and 're-imaging' going on in Hollywood these days it is surely time to get the old gang back together again (as I pondered HERE in July) or for a Cold Case: The Next Generation?