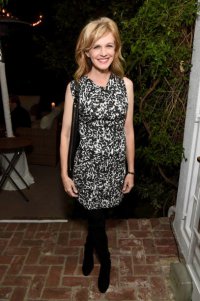 YAY! SHE'S BACK AGAIN!  For only the second time for 2017.
It's Primetime Emmy Awards season in that there U. S. of A.
Last weekend it was the Creative Arts Emmy Awards.  These are for the often unsung heroes of the TV industry.  Those behind the scenes folk that are often behind (as in responsible for) the actual scenery used in TV shows.  Other technical and production aspects are covered.  Highlights of the ceremony, which actually happened over two nights, is due to be broadcast tonight (Saturday, 16th September 2017) on the FXX channel.
Tomorrow the same Microsoft Theater in LA will play host to the Primetime Emmy Awards.  The CBS TV network (once home to Cold Case) will broadcast the show live, which is why a lot of American TV programs are taking the weekend off.  The Late Show's Stephen Colbert will be master of ceremonies.
Yesterday (are you keeping up? there's lots of days involved here

) Kathryn graced a party held by the Gersh Agency with her ever-wonderful presence.  Lucky them.  Kathryn signed with Gersh back in August 2010.
As you can see from the photo we have Kathryn looked very lovely indeed in her black & white ensemble
That image can now be found in the KM UK Gallery.  Any more we find will be added as soon we can.