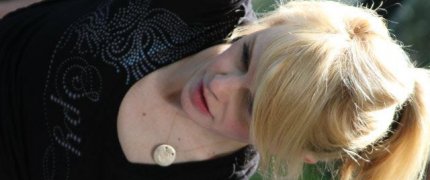 And we reach the end of what we've called Cougar Week, a look back behind-the-scenes on the movie Cougars, Inc., with part 4: the 13th of February 2010.  Part 3 can be found HERE.
All the ladies were together again, this time for the shots outside in the garden.  In a scene that must have been dramatically cut down for the film a load of friends have joined our foursome for yoga.  We only saw a couple of lines spoken from it but from the look of the set up involved in these photos there must have been much more.
Also, there are more shots the children's party scene.  Another chance for Kathryn to show us her angry face.
32 new and updated photos are now in the Gallery.
There is also a large sized version of the the invite to the movie première and after party invite now in the Gallery.  Possibly indicative of the way the movie promotion was handled the invite appears to be missing a date!
Sadly we have not seen any photos on the set of… certain… other scenes