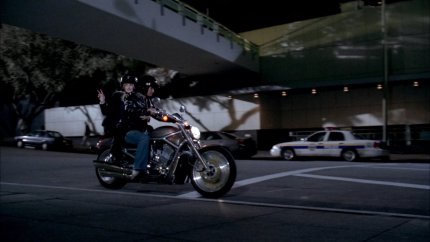 After the usual early year hiatus Cold Case returned to season 3 in late February 2006, 15 years ago today (26th Feb), with 'Dog Day Afternoon'. KM UK returns with its on-going series of image updates.  The story of this episode involves a group of masked (at least they are complying with current regulations!) bank robbers seemingly revisiting the scene of a previous crime.  The case of the death of a young bank teller in 2000 is re-opened by Lilly and the gang.
Speaking of Lilly, hardly a surprise as this site is practically all about her, she re-opens a case of her own.  More of a pandora's box than an evidence box.  And it is clearly a crime of passion.  Ray the motorcycle man rides back into town.  But does he get back in to Lilly's… good books?
Hoping to improve your dog day of an afternoon are 288 (Full HD, 1080p) new screencaps in the Gallery.