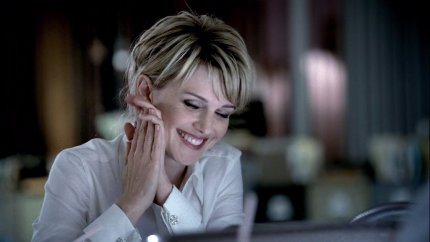 I thought we all deserved to end the year with a nice image so I chose the one above to headline this KM UK Xmas Message for 2020.  As a screencap from the Cold Case episode Discretion (S02E10), it is not festive but hopefully brings a smile to your face too.
Here is KM UK's very quick look back at 2020.
What can any one say about 2020 that hasn't been said a million times already?  It was… purple?  None of us have known a year like it, and, with luck, none of ever will again.
Things have been difficult for so many people.  However, countless numbers have shown a willingness to  go above and beyond for others.  This is something we must try to keep in mind moving forward, and not just going back to the way things were.  Division only benefits a small minority, whereas unity is in everyone's interest.
As we know, 2021 is not going to herald a sudden change of fortunes at the stroke of midnight January 1st.  Recent news suggests things may get worse before they get better.  However, there are reasons to be optimistic in the longer term.
Going back to the topic of the site and post:  We have not heard anything of Kathryn all year.  No guest starring roles in movies or TV shows seen or announced.  No surprise public appearances either.  Given all that has happened in 2020 that is hardly surprising.  If it is a sign of things to (not) come we will have to wait and see.  Come back and visit in 2021 to find out.
We wish everyone the best Xmas possible.  Please stay safe and well.