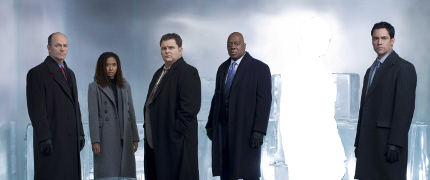 The lack of production taking place yet, or only just about to start, is hurting the amount of showbiz news coming out.  This is likely to be shortest Cold Case Cast Catch-up yet.
Typically, the day after last month's CCCC-up news broke that the new film Dear Evan Hansen that Danny Pino (Scotty Valens in CC) is set to star in had added Julianne Moore to the cast.  Oscar winner Julianne (Far From Heaven) will play one of the main character's mother in the movie adaptation of the hit musical.  This is fast becoming a stellar cast with Amy Adams (Arrival), Kaitlyn Dever (Last Man Standing), Ben Platt (The Politician) and Danny already signed-up.  In the past few weeks two Broadway stars (DeMarius Copes and Gerald Caesar) have also been added to the cast.  The film is still in pre-production, so is some way off.
Tracie Thoms (Kat Miller in CC) is very active on social media giving support to various campaigns but does not appear to be working as she normally would.  Shows like 9-1-1, which Tracie has been a regular in for several seasons are expecting to start production in October.  We'll have to wait and see if that is possible.