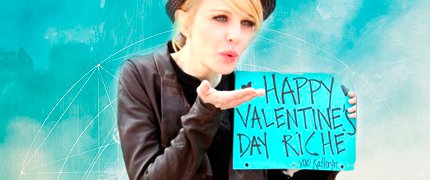 To Kathryn, with endless adoration
Happy Valentine's Day
Kathryn, I know I've said this on a few occasions before but may be now is the right time.  Neither of us are getting any younger, except you of course (don't tell me, 21?), and all though things would be complicated, life is complicated.
So, how about it?  Be my Valentine in 2020.
Thanks again to Kareen T for the banner you see above, done by her especially for KM UK a few years ago.  Lots more fan-created art works can be found in the KM UK Gallery.