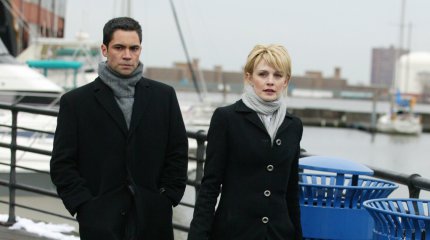 Things are a little chilly in Philly.  And, that's not just because of the snow on the ground!
After a week off, Cold Case season two continued on this day 15 years ago as 'Time To Crime', episode 13, first aired on US television.  The story involved the squad tracing the history of a gun turned into the police as part of an amnesty programme.  It was found to have been used in the drive-by shooting of a young girl back in 1987.
Alongside this Lilly and Scotty continue their somewhat frosty relationship due to Lilly's sister Christina's continued presence.
It's all about Lilly and Scotty on the water front in 'Time To Crime' promo photos.  The 1st and 4th of the set are particularly high resolution.  Four new images are now available for viewing in the KM UK Gallery.