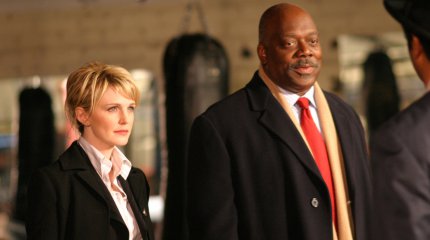 Adrian!  ADRIAN!
We've all heard the line, even if we're not sure where it is from.  One thing it is not from is this episode of Cold Case because there are no Rocky references explicitly made or anyone called Adrian (male or female) in it.  The episode is very much inspired by Rocky with a story from an old boxing match.  A deathbed confession from the referee of the event gets the squad investigating.
They have to go back nearly 30 years to 1976, and we're going back an additional 15 years to January 16th 2005 when 'Yo, Adrian' first aired in the United States.
4 new high quality promo photos from 'Yo, Adrian' are now in the KM UK Gallery. We are delighted to see Thom Barry (Will Jeffries in CC) feature so prominently in them.  He didn't often partner-up with Lilly for the suspect interviews, so we didn't see him much across the seasons.