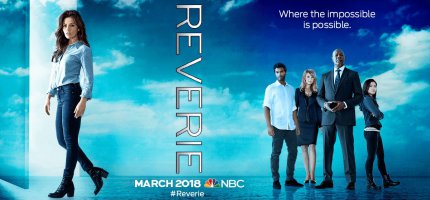 Following on from the post a few weeks ago KM UK can now bring you the complete list of episode titles from Reverie's first season.
The final two titles have been revealed to fill out the 10.  Number nine is called The Key and the finale is Point Of Origin.
Personally I'm surprised that the last one doesn't have a more 'ending' themed name.  Perhaps it hints at things coming full circle.
Reverie is due to hit the TV screens in the US of A in March next year.
Here is the complete list in table form.
| Ep # | Title | Comment |
| --- | --- | --- |
| 1 | Apertus | Latin for 'open' |
| 2 | Bond. Jane Bond | |
| 3 | No More Mr Nice Guy | |
| 4 | Blue Is The Coldest Color | |
| 5 | Altum Somnum | Latin for 'deep sleep' |
| 6 | Pas de Deux | A ballet term for a duet dance. French for 'step of two' |
| 7 | The Black Mandala | A mandala is a type of spiritual symbol |
| 8 | Despedida | Spanish for 'farewell' |
| 9 | The Key | |
| 10 | Point Of Origin | |