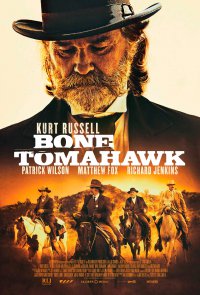 It has been just over a year since news broke that after a prolonged pre-production period Bone Tomahawk started actual production.
The short filming schedule, very small budget, and limited post-production special effects has meant quite a short turn around.  Certainly quicker than much Hollywood fare.
Premièring a month ago at Fantastic Fest and screening at a number of other festivals since (with plenty more to come), Bone Tomahawk will be released in US cinemas and via VOD services today (Friday, 23rd October).
The horror-filled western stars Kurt Russell (Death Proof) as Sheriff Hunt, who, along with Patrick Wilson (Fargo), Matthew Fox (Lost) and Richard Jenkins (Let Me In), set out to rescue Lili Simmons (Banshee) from a band of "cannibalistic cave dwellers".
David Arquette (Scream), Sean Young (Blade Runner), Sid Haig (Jackie Brown), Michael Parè (The Lincoln Lawyer), and James Tolkan (Top Gun) also star.
Kathryn has a small role as Lorna Hunt, wife to Kurt's Franklin.
UK cinema goers will have to wait until December the 11th.