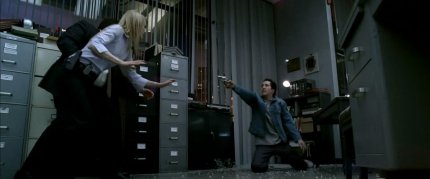 That guy did.  The one with the gun!
It's not a big mystery.  We are, of course, talking about Stalker the Cold Case season 4 finale in which Ed Marteson draws a gun on the squad in their own building and takes Lilly hostage.  With everything else going on in Lilly's life (her mother being ill etc.) she needed this situation like she needed a hole in the… err… shoulder.
But why bring this up now?
Joe Reegan the actor who played Ed has done an interview for The Examiner website in which he talks about his role in Cold Case as well has a his work in TV dramas, films and helping to rescue mistreated dogs.
"I did a couple episodes of Cold Case when I first started," he said. "I ended up doing the season finale with a cliffhanger when I shot Lilly Rush, who was the lead character on the show. The season premiere wasn't until the next season, so several people came up to me and were like 'I can't believe you shot Kathryn Morris!'"
Contrary to expectation it improved his career prospects!

Since taking down Detective Lilly Rush Ed has been in CSI: LV and NY shows, Castle, NCIS, Criminal Minds, Without A Trace, Hawaii Five-0, and Chicago PD.  He will also be in the new Cyber offshoot of the CSI franchise when it starts in March.
Joe is currently promoting a new film Alien Outpost (aka Outpost 37), which is due for a limited release in a few days time.
You can read the full article on The Examiner website HERE.