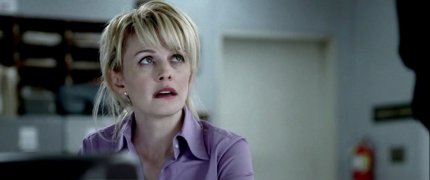 This episode kind of has it all.  The writer and producers must have had some fun with this one.
Creatures Of The Night, the latest entry in KM UK's Summer Of HD 2013, was the first time that Cold Case had done an episode that was quite so themed.  The only thing missing was the characters singing all their dialogue Buffy-style!
The crime up for re-investigation was the murder of a cinema doorman in 1977.  On the night in question the movie being shown at the theatre was The Rocky Horror Picture Show, one of a small number of films known to get a lot of audience participation at any screening.
What really makes the whole thing a real fan-fest is the inclusion of Barry Bostwick (Spin City) as a jailed serial killer.  Barry was, of course, in the 1975 Rocky Horror film used as the backdrop for this episode.  He will be forever linked to Rocky Horror but Barry has had a very successful and varied career, including 6 seasons as the Mayor of New York in the very popular sitcom Spin City.
140 HD (720p) Lilly screencaps from the episode can now be found in the Gallery.