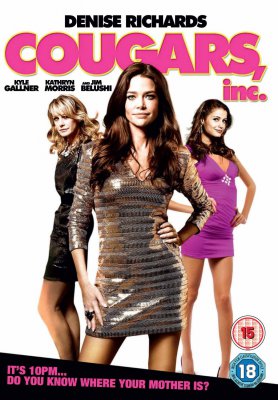 What you see above could very well be the cover art for the UK DVD release of the movie Cougars, Inc.
Someone has obviously gone to some effort to do this rather than just take the version used in other parts of the world, such as the US.  You do have to wonder why though.
The white background is the biggest change but there are others, both subtle and otherwise.  Catalina Rodriguez (right) has undergone a body transplant with a severe neck twist.  Can anyone name that body?  Kathryn has been cut out of a darker part of the background, which complicates it, and the surgeon has perhaps been a bit over zealous with the scalpel.  All three ladies have had changes made to their hair, mostly due to issues with cropping them from the original background.  Kathryn in particular has gained some extra flowing locks.  Headliner Denise Richards comes away from the experience almost unscathed.
A larger version in now in the Gallery.