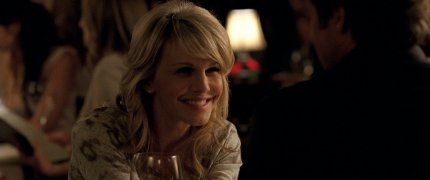 You want the good news or the bad news?
Sorry, I didn't quite catch that so I'll assume you said "bad".  The bad news is that I'm able to confirm that Kathryn does not feature at all in the extras on the US Moneyball Blu-ray, except for the deleted scene we already know about.  Get the Blu-ray as it is still worth watching in HD.  Robin Wright goes unmentioned as well, but at least she got a scene in the flick 😕
And the good news… no peaking at the subject above… what do you mean you've already read it?  We'll if that's your attitude I'm not going to tell you  😡
Oh, OK, I can't stay mad at you

  The good news is that we now have 30 full HD (1080p) screencaps of the lovely oh-so Kathryn from the Billy/Tara restaurant scene.  You can find them in the Gallery.  They are a little grainy, which is probably down to the darkness of the restaurant setting.