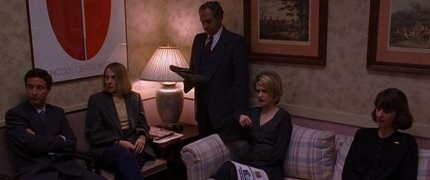 She's in there somewhere, honest.
Here's another in the all too long list of things in the Gallery but I've never written about.
This has to be one of the shortest cameos ever.  Kathryn's appearance in the 1997 Jack Nicholson / Helen Hunt odd-ball romcom As Good As It Gets lasts for less than 8 seconds.  It's taken you longer to read this far.
Credited as just "Psychiatric Patient" (along with another woman) Kathryn still manages to squeeze a lot of acting into that brief window of time despite the lack of words, emoting more than any of those around her.  That is clearly a troubled young woman waiting to see the psychiatrist.
A tiny collection of screencaps and a video clip are in the Gallery.
The article title is a double entendre by the way 😉