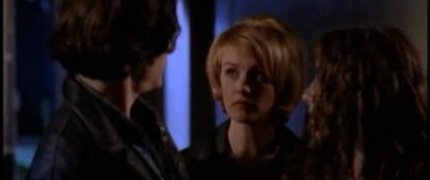 Here we have the answer to last week's mystery image quiz.  Thank you all for taking part.  It was fun to watch you consider the options.  However, none of you got the right answer.
The answer is the image is from the TV series Relativity.
I know.  Me too.  Only one season was made and it was broadcast in the US from September of 1996 to April of 1997.
Kathryn has said in interviews that she did a few pilots before becoming one.  By which I mean she made several un-aired, or little heard of, TV shows before getting her significant break as Lt. Annalisa Lindstrom in Pensacola: Wings Of Gold.  This is one of those pilots.
Hands up everyone that had heard of the show Relativity before now.  Anyone?  Yes, you at the back, you've heard of it?  Really?  Oh, it's two doors down on the left, the flush gets a little stuck so give it a good push when you're done.  So no-one then?  Thought not.
I'd certainly never heard of it at all until I happened to stumble across a non-IMDb list of Kathryn's work past and present.  I had my doubts that it was true, putting the item down to a mistake by someone.  There are some odd mistakes in filmographies around.  After some effort to track a copy down I can say that much to my delight it was true.  Contrary to what some of the filmographies say I can confirm that Kathryn only appears in the first episode, the pilot.

Sadly that delight was short lived.  About 2 minutes short in fact.  Despite this being a 17 episode, Emmy nominated series Kathryn is only in the first episode

  No more Morris

  And that is a great shame because in those few seconds she stood out.  At first she's just one of the family, on the sofa amongst everyone else.  Then she gets all annoyed with someone calling San Francisco, "Frisco".  And it ends with a comic line.  Short but sweet.  Actually it didn't entirely end on that line, there were some background shots as the main characters walk through a crowd, but no real lines or anything.

In her first scene Kathryn, apparently playing a character called Sylvie, finds herself sat between Richard Schiff, of The West Wing fame, and House's Lisa Edelstein.  Poppy Montgomery from Without A Trace is also amongst the regulars.  It makes for quite an impressive cast list, with many of them having gone on to star in most of the hit American TV shows of the past few years.  None appear to have done Cold Case though.  Every other character appears to continue on for the rest of the season, with a couple of new ones joining.  But no more Morris 


So what is the show about you ask?  I'm not entirely certain, I didn't watch much.  I think it is about a couple that have a holiday romance in Italy and then bump into each other again in the United States.  It then becomes a soap opera thing involving their respective families and their issues.  I'm sure it is cute, heart-warming, funny, thought provoking, tear-jerking etc.
Check out the Gallery for a "relatively" (see what I did there?) small collection of sadly low quality and small sized screencaps and short video clip.
Update: Some larger (but not really better quality) screencaps have been added.  Thanks to Huge Cold Case Fan for finding the video.