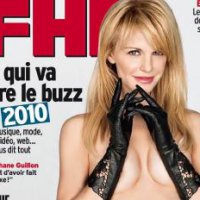 Huge thanks to Lester for bring this to my attention.
This came as a bit of a shock.  We even questioned the authenticity of the image.  Thankfully it looks to be genuine.  Various places are reporting this.
It appears that Kathryn will be appearing an the upcoming edition of FHM, possibly just the French edition.  And from the look of the picture, appearing quite a lot 😉
You can find an article (in French) about it at PurePeople.com, and a Google translation of it into English HERE.  The full text and the translation can be found after the jump.
I very, very, very, very much look forward to seeing errr… more.
I don't think there is much more I can add to that without making you think a lot less of me 😉
Update:  Slightly larger image above.
Update 2:  Slightly larger again image added to the Gallery.
Update 3:  New large version of cover added to the Gallery.
Update 4:  I've very quickly edited most of the text off the cover image and added the result to the Gallery.
---
La comédienne américaine Kathryn Morris, 40 ans, célèbre pour son rôle de l'agent Lilly Rush dans la série à succès Cold Case, s'est livrée comme jamais en photos et en interview dans le nouveau numéro de FHM.

Lors d'une série de clichés sexy où la jolie blonde se dévoile totalement – notamment en couverture de laquelle elle ne porte qu'une petite culotte -, Kathryn Morris irradie cette nouvelle édition du mensuel masculin. Extraits.

"Cette série photos était vraiment fun ! Je me sentais suffisamment en confiance pour jouer à séduire… d'une façon que je pense sexy. C'est le fait d'être bien dans sa peau et épanouie qui fait que l'on se sent sexy. Depuis mes 40 ans, je me sens mieux, plus forte. Avec l'expérience, mais aussi le succès, j'ai appris à plus me lâcher et à ne plus m'inquiéter des petites choses."

"Au départ, j'étais venue à Hollywood pour faire du cinéma (on a pu la voir en ex-femme de Tom Cruise dans Minority Report et dans un petit rôle dans A.I., deux films de Steven Spielberg, ndlr), et je ne pensais pas à la télé. Mais les producteurs étaient sûrs que j'étais l'actrice idéale pour incarner Lilly Rush et ils ont insisté."

"Après sept saisons dans la peau de ce personnage, j'ai vraiment appris à l'aimer. Je commence même à la voir comme un être humain réel dont je suis l'évolution en témoin privilégié. Une série télé, c'est une expérience incroyable. C'est difficile, mais ça en vaut vraiment la peine."

"Ce qui compte pour un homme aux Etats-Unis, c'est le travail et l'argent. Je suis venue plusieurs fois à Paris et j'ai l'impression que les Français apprécient plus la beauté, la poésie et les bonnes choses de la vie. Surtout, ils font plus attention aux femmes et savent les comprendre, en profondeur."

"J'étais avec quelqu'un depuis neuf ans, ce qui est un record à Hollywood. Mais nos chemins prenaient des directions trop différentes. Nous nous sommes quittés sur l'air de "je t'aime assez pour te laisser partir"… J'ai toujours voulu être actrice. C'était et cela reste ma priorité, avant la romance ou le mariage."

L'interview complète et les charmantes photos de Kathryn Morris dans le nouveau numéro de FHM, actuellement en kiosque. Malheureusement le magazine va s'arrêter fin décembre.

The American actress Kathryn Morris, 40, famous for her role as Agent Lilly Rush in the hit series Cold Case, has engaged as ever in pictures and interview in the latest issue of FHM.

In a series of sexy shots where the pretty blonde is totally revealed – including the cover of which she is wearing only panties – Kathryn Morris radiates this new edition of the monthly men. Some extracts.

"This series was really fun photos, I felt confident enough to play to win … in a way that I feel sexy. It's being good about yourself and who flourished because we feels sexy. Since my 40 years, I feel better, stronger. With experience, but also the success, I learned to let go more and no longer worry about small things."

"Initially, I came to Hollywood to make films (we could see the ex-wife of Tom Cruise in Minority Report and in a small role in AI, two films by Steven Spielberg, editor's note), and I thought not on TV. But the producers were sure that I was the perfect actress to embody Lilly Rush and they insisted."

"After seven seasons in the skin of this character, I really learned to love it. I even began to see as a real human being that I am changing in a privileged witness. A TV series is a incredible experience. It's hard, but it's worth it."

"What counts for a man in the United States is work and money. I came to Paris several times and I feel that the French appreciate more the beauty, poetry and good things of life. Above all, they pay more attention to women and know how to understand, in depth."

"I was with someone for nine years, which is a record in Hollywood. But our paths took different directions too. We parted to the tune of" I love you enough to let you go"… I always wanted to be an actress. It was and remains my priority, before the romance or marriage."

The full interview and pictures of lovely Kathryn Morris in the latest issue of FHM, currently on newsstands. Unfortunately the magazine will stop in late December.