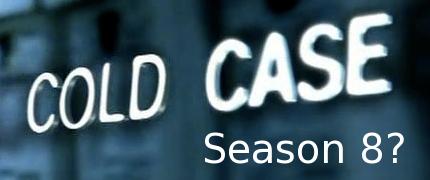 TV gossip-monger Michael Ausiello has a couple of quotes from our favourite lady.  That'd be Kathryn, in case you hadn't guessed.  As part of his regular Ask Ausiello section they are in response to a reader asking for any general Cold Case scoops.
The idea of an eight season is raised.
Ausiello: Like her character, Kathryn Morris is spending a lot of time thinking about the past, even if she's glad to still be around in the present. Cold Case's close brush with network death (before eventually getting renewed for another season) has her feeling "a little more sentimental this year," she says. "Everyone is waxing poetic about the good times. 'Remember when you were sick with the flu in season two and I brought you chicken soup and we became best friends?' 'Remember that one time when I ripped a Dolce & Gabbana suit by walking by a rusty desk in homicide the first day they let me wear it? I'm sorry.'" Regarding the possibility of an eighth season, she says, "I think we are optimistic that we could go on as long as the audience wants us to. It isn't like we will run out of crime in Philadelphia."
We'll just have to wait and see.
You can find the full article here.