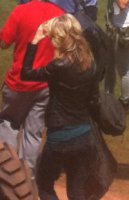 We've had it confirmed by the lady herself that she is actually in Moneyball, but we've yet to see any real evidence of it. Well that might be about to change.
It's small, grainy, and you can't see her face at all but this (see right) could very well be the first image to surface of Kathryn on the set of Moneyball.
The photo was taken early last month from the stands of the Oakland Coliseum by one the extras there to fill the stands with baseball fans.  I believe the day matches one that Kathryn had been mentioned as being there by one of the extras.  The blonde woman was not the focus of the image and was only caught on camera by accident.  The woman appears to be just walking past and is not taking part in any scene being filmed.
So, is it Kathryn?
The body shape is definitely right 😉  The clothes look like the sort thing Kathryn would wear, though they could be part of wardrobe for the film.  The hair is more "shaped" than Kathryn normally wears it, but, again, it could be that way for the film role.
I am waiting to hear from the photographer before I post any more about it so for now I'm only going to post the image you see here, with no link to anything in the Gallery.  However, it is not much smaller than the original so you are not missing much at the moment.  I will, of course, update with any further information I receive.
What do you think?  Is it Kathryn?
Huge thanks to Madcat and to the sharp-eyed Karen for passing this along.
Updated: Poll added after jump.