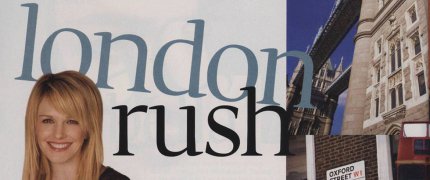 To continue our trawl through the publication archives we have a fun little interview with Kathryn in the June 2007 edition of CBS Watch! magazine.
Kathryn had just visited London (why didn't you say you were coming?) with her sister and got to take in the sights and shops of London town between filming promos for Sky TV (the broadcaster of Cold Case in the UK that goes unnamed in the article). It sounds like she enjoyed her time greatly.
In the Gallery are scans of the magazine pages and after the jump is a transcript of the interview.
Kathryn, if you are ever visiting the UK again please do let me know.  You can bunk with me to save on hotel 😉
Big thanks again to my magazine girl Sammie for her help.

London Rush

The home of Sherlock Holmes, James Bond and Scotland Yard proved an irresistible getaway for Cold Case detective Kathryn Morris

ON COLD CASE, Detective Lilly Rush goes back in time every week to solve some of the toughest murder mysteries. So it's no surprise the actress who portrays her, Kathryn Morris, would do a little time-travelling of her own during a recent trip to London. Although she didn't close any cases while there, Morris did find time to see all the historic sites – and visit the Sherlock Holmes Museum ("Because I'm a detective, I thought it would be really fun to go see Sherlock Holmes' office, she jokes). Watch! caught up with the Cold Case star to get the details on her British invasion.

Watch!: What did you think of London?

Kathryn Morris: I loved the city – it has such history. We were there for a week and went to Abbey Road. got to see Big Ben, go on the London Eye. I went with one of my sisters, and we got on one of those hokey double-decker bus tours. and we had the best time.
The bus tour is great because you can just hop on and off; they take you by all of the different beautiful churches like Westminster Abbey. There are so many stops along the way, and so many different things to see. We got off at the Tower of London, which was one of my favorite things to do. It's where Henry VIII lived, and it's just so historical and spooky at the same time. They go and show you where all of the beheadings took place – and that used to be entertainment! All of the different things that occurred inside the Tower of London – you just can't believe that this is what you read about in history class. And then here you are, this is where Anne Boleyn was put for a really long time, and this is where Henry VIII used to sleep every night.

W: Any recommendations?

KM: I would highly recommend staying at the Dorchester Hotel, and having afternoon tea every day with a girlfriend. It's a really great trip to do with a girlfriend or your sister. And then you can walk down to Oxford and Bond Street and do all the great shopping – they have everything from their famous department stores, like Harrods and Top Shop. Every girl has to know that you can pretty much spend several days in Top Shop and rolling around in all of the great fashion and shoes – it's kind of ridiculous.
And then when you're done, and you've had your tea at the Dorchester, there'll be just enough time to go out to the theater and see a wonderful play. I got to see Judi Dench in Noel Coward's play Hay Fever, which is fantastic. You know, the live theater there is just incredible, and to see Judi Dench perform live… all of the actors that have been training there since they were born.
Another thing to do is go to Covent Garden. Just go and hang around in the shops and the open air and the great cafés and great little shops and cobblestone streets.

W: Anything you didn't get to do but want to next time?

KM: The Jack the Ripper tour across the street from the Tower of London – the next time I go back 1m going to do that.
And if you really want to get crazy – I didn't get to do this but I would like to do it next time – take the Chunnel. You take the Eurostar first class to Paris for the day, go shopping and come back.
And then my hairdresser on the show – she's from London – was telling me that I have got to go out to Knightsbridge and go to Harvey Nichols, which is where Princess Di used to shop, instead of Harrods. There's always a competition between Harrods and Harvey Nichols, but I'm going to go with Princess Di.

W: Did you bring anything back from your trip?

KM: My sister and I went into the gift shop at the Tower of London, and they had all these board games. One was called Outrage – it's a game where it's all about trying to get the crown. It's like Scrabble, but for kings, or like Monopoly, but for getting the crown. And then you know you've got to get your British socks with the flag and, Derby hats and Sherlock Holmes hats and stuff like that for your relatives. And you've got to get your tea.

W: How were the people there?

KM: Oh, they're so lovely! All of the boys look kind of like Jude Law, and they all dress really well. They were just really friendly. You get the range of people that
come from the upper class, and then the real Cockney types. We went into a pub to get some fish and chips, and you sometimes couldn't understand what they were saying. But, you know, when in Rome… You don't want to be rude, so you just sort of look down at the menu and try to figure it out. It was like, "OK, I don't know what she said, but I'm going to go ahead and order the shepherd's pie."

W: How was the food?

KM: I actually think they have some of the best Indian food in the world there. Indian food is a real speciality in England. And they've clearly worked on their food situation: sometimes they get a lot of heat for it. I'm not a big fan of the traditional English food, but there's so much there now that you can have pretty much anything in every style. If you like Indian food, it's a really great place for that.

W: So do you see Cold Case ever doing an on-location shoot in London?

KM: I did do some promos for [the British broadcaster airing Cold Case]. And that's an interesting story because they wanted me to do all these stylized HBO-type of promos, where they built this fake Cold Case room, and I was saying things like "Murder is murder" in a British accent. Very Agatha Christie-like. It was sort of like dinner theater. "Murder is murder. And I won't let you get away with it." So we did all these campy takes on Lilly Rush.

W: Is there something that you always prefer to bring with you?

KM: I have these long john shirts that are different colors and they're great for layering. I have one that's pink and one's green and one's blue and has a little logo with tiny flowers on it. And it seems like no matter what time of year, they make me feel that I'm always at home… It's like a staple, you know? Cute long underwear that can double as a layer. And one cute coat. You should always have one cute coat with you because then it can work for going to dinner or going to theater, or if you have to do an interview at the last second and you're really on vacation. Girls should just walk around with a cute coat.